Fourth year of Project Abrazos in Colombia
In July, for the fourth year in a row, Factor-H sponsored kids at risk for Huntington's and living in poverty, gathered again in the Caribbean coast of Colombia for our annual vacation. It is a special time for all of us involved, and for the kids. We spend 4 days together, and awe celebrate our friendship and the progress we are making. This year we counted with the invaluable help of friends and professionals from the NGO Funmart, a non profit working in the Magdalena region to benefit people in need. Together with them, we organized a series of educational activities for the children and adolescent members of the program. Several of the teenager kids turned 15 and therefore exited the program - we still follow them and indeed many came back as volunteers to care for the smallest ones in the group. We are now working to provide the teenagers with educational and professional training opportunities. Because several graduated from the Kids program, we were able ti add five additional children from a new town where we have identified many new, previously unknown, HD families. These new kids were welcomed with open arms and they had a fantastic time!
PROJECT ABRAZOS SPONSORS 100 CHILDREN
LIVING IN EXTREME POVERTY IN ZULIA STATE
This past week, our friends from the local patient association (FAHUN), and clinicians working in one of the main Maracaibo hospitals conducted a medical visit to San Luis in Maracaibo, and looked after the 40 kids in this neighborhood who are part of Factor-H project Abrazos. All of the kids, similarly to the children sponsored in Colombia, are at risk for HD and live in conditions of extreme poverty. The program in Maracaibo is slightly different from Colombia in the sense that we are aiming to help many more kids with basic necessities, such as clothes, food access, medical access, and school supplies. However, we do not yet (due to lack of resources) organize field trips for these children. Hopefully this will happen in the future, with people's financial support. Many of these kids live in extremely difficult conditions, and some were seen wandering the streets all day, without attending school. The management of the project is coordinated by FAHUN and its President, Edinson Soto, who is responsible for overseeing the program and ensuring the kids are looked after. Edinson visits the kids often, speaks to their relatives, and makes sure they get the help they need - both in terms of nutrition as well as trying to ensure their health is looked after and they attend school. Having the local association manage the project objectives ensures the kids are followed closely, so we can act when they see something wrong. This medical visit by local pediatricians is the first one directed at these kids. Below are some pictures from the medical visit. I have known some of these kids for years, and I am happy we are finally able to help.
in addition to the 40 children in San Luis, Factor-H is also sponsoring 60 additional kids in Barranquitas, by far the most needy community in the HD world. There, also under the supervision of the local patient association (FHZ; Fundacion Huntington Zulia), the kids get help from their volunteers Samuel ] and Nancy, and President Zulay, all of whom work with the help of Factor-H to ensure we improve the living conditions of these wonderful kids. We will update pictures soon for the program events and more information about the kids soon.
The programs in both locations in Zulia State are coordinated and managed by our main ally in the region, the Fundacion Habitat Luz, who manages all aspects of our programs in Venezuela. We also wanted to thank, particularly, a wonderful friend of Factor-H from England who donated money to sponsor all the kids in Barranquitas.
The costs of sponsoring a child in Venezuela currently are about $12-$15 per month.
With this money we manage to cover assistance for clothes, school supplies, and some food supplements. Through our network of volunteers and clinicians, we try to provide medical assistance. We hope to start arts and reading classes for these kids, but we need more support to ensure we can provide for the overall program: a total of 140 children between Venezuela and Colombia.
In addition, Habitat Luz also managed to get a local school to collaborate with the program and have a local 'sponsorship' program where older kids sponsor the kids in Project Abrazos, This is the first time we have a local school helping the kids at risk for HD. This represents a very encouraging sign for all of us, that change is on the way for these kids.
Third Year of Project Abrazos - dec 2018
Santa Marta, Colombia & Zulia state, Venezuela
Project Abrazos has been in operation for 3 years now in Colombia. From December 10-14, the children from the Caribbean Coast of Colombia got together for our annual Christmas holiday get-together. This time the reunion took place in the Mendihuaca Caribbean Resort, a hotel 30 miles from Santa Marta, close to the Tayrona National Park. The children sponsored by Factor-H come from areas with high prevalence of Huntington's, including the well-known town of Juan de Acosta, next to Barranquilla. Many of the children live in poverty. A total of 37 kids under 15 are part of the program.
Several of the kids that started in the program have now 'graduated' to part 2 - after they turn 15, we plan on supporting them to ensure they continue their education and professional development. Our ultimate objective is to get each of the kids to grow up healthy, supported, and ready to be independent adults not living in poverty. Towards this goal, education is key. One step we took during this trip was to bring the kids to the local University where they learned about educational opportunities and heard an inspirational speech by a person who lost his eyesight as a young adult. They learned that through education they can change their lives. Next we will work with teenagers to ensure they either continue with their academic education or learn a trade. The goal is for each of them to get out of poverty, and we will be standing next to them and working alongside to bring them opportunities.
A significant change in 2018 was the hiring of two people in Colombia working for Factor-H, whose responsibility is to develop children's and youth programs. Arnel Arroyo Díaz has been working for 18 months now as a Factor-H associate in the Caribbean region, and he regularly visits all the kids in Project Abrazos, ensuring adequate nutritional, medical and emotional support. As of December 1, 2018, we also hired Alexis Garcés, who comes from an HD family, who will work closely with Sonia Moreno in Medellín. His role is to identify and incorporate new families and to extend our children and youth programs throughout the rest of Colombia. Alexis came to Santa Marta and met all the kids from the Project. Him and Arnel will work together to increase our impact in the lives of at-risk youth living in poverty in Colombia.
Below are some of the pictures from the December reunion. We also held, together with the help of our colleagues from KIHMI foundation (an LA based NGO closely working with Factor-H in this region of Colombia), FunMar foundation (a local NGO), and several professionals from local universities (doctors, psychologists, nutritionists), a medical assistance day for the kids as soon as they arrived to the resort. We also held a ceremony for Olver, one of our kids, who sadly passed away in July 2018. Olver was a wonderful kid who represented a lot of what drives our efforts - improving health for these children, increasing their social integration, bringing a smile to children living in very hard conditions, and giving them hope for a better future. On the last day of the reunion, all of us wrote something for Olver and gave his grandmother Juventina and older brother Jose David (he is part of the program) a framed picture of Olver at his happiest - during our last gathering in Barranquilla in July, a few weeks before he passed. The event was very emotional for all of us and for the children. We will always remember our friend Olver, his kindness and his smile.
In addition to our efforts in Colombia, Project Abrazos has now expanded to Zulia State in Venezuela. Inspired by the amazing story of Anyervi, the JHD kid from San Luis who traveled with us to Rome to meet Pope Francis in May 2017, we decided we needed to have a strategy for helping other children at risk or with JHD in this region, the area in the world with the highest density of HD affected individuals. In these poor communities, there are hundreds of children from HD families living in extreme poverty. Obviously, we are unable to do in Maracaibo what we do in Colombia, and we cannot provide for all the children living with HD in San Luis and Barranquitas - there are simply too many.
However, we are drawing plans to continue to support 50 children living in desperate conditions in these two communities. Together with our friends from the local HD associations (FAHUN and FHZ), we have identified the recipients of the first aid from Factor-H, which will be directed to provide them with basic assistance - shoes, clothes, school supplies, and food. In San Luis, 40 children are part of the program, and FAHUN's President, Edinson Soto, has become the director of Project Abrazos there. He will personally monitor for the kids' progress and health, and will ensure that they continue in school. In Barranquitas, so far we have 10 kids living in extreme poverty as part of the program, including the children of the three Soto Soto siblings with HD that met the Pope in Rome.
Our recent visit to San Luis and Barranquitas also was very poignant and difficult. We realize the extreme duress that many of there families experience, and we hope to grow our ability to help as many children as possible there. We are in the process of re-opening a dining hall so that we can provide adequate nutrition to over 300 children in Barranquitas. We are also working with local community leaders to improve the school, which is very deficient - the consequence being that many kids (>40%) do not go to school at all. 2019 will be an important year for all of us working in Maracaibo to change the conditions there so that kids have a much better chance to grow healthy.
Finally, one of the most beautiful moments for Factor-H staff is to be part of the Christmas celebrations we hold at the most affected towns in Latin America. This year, we held one in Cañete (Perú) and two in Venezuela, for hundreds of children. The events are always fun, filled with joy, gifts, cakes and live entertainment. Seeing the smiles in the kids faces is just priceless. Many have never been part of something like this, and they do not get gifts often. Below are some of the images from the events we organized in San Luis and Barranquitas.
Finally, none of this work would be possible without the support of many kind and generous friends who support the program. Your support makes a big difference in the lives of each of these children, their families, and for us. You can join us and visit them if you wish. Just contact one of us working at Factor-H.
THANK YOU
We started a new campaign to collect funds for the Kids project, which now also reaches some children at risk for HD in the communities of Zulia State in Venezuela. In addition to sponsoring 40 children from Northern Colombia, we are now sponsoring 10 children in Venezuela, and want to enlarge the program to benefit more kids living in poverty.
The situation in Venezuela is hard to describe - but hundreds of at-risk children live in extreme poverty.
Factor-H attempts to extend its efforts to these communities by expanding the program to include recreational and educational activities, such as art classes, sports activities, and basic skills such as reading and writing. We plan to do this, focused exclusively in communities ravaged by Huntington's disease, through our alliances with local NGOs and patient associations.
Currently, the program sponsors individual children who receive support for basic needs, education, and medical attention. We are in our third year of the program. All the kids, along with some of the parents, attend our biannual meetings, which take place for summer and Christmas. These children have gone from being malnourished and, in many instances, anti-social, to be part of a network of children united by friendship and solidarity, rather than only by disease and poverty.
in 2018, Factor-H enlisted its first full-time collaborator, Arnel Arroyo Diaz, who works locally in Magdalena, to visit the kids frequently and coordinate the program. Stay tuned for the activities being planned in Colombia and Venezuela for the Christmas season. This year, also for the first time, Factor-H will visit the community of Cañete in Perú, another large cluster of HD families outside of Lima.
All of this costs money and we need your support. kindly go to the Donate page and become a sponsor for one of these kids.
Any donation helps, no matter how small. Money is pooled to include more children and also to cover costs associated with special educational and recreational activities.
A $300-year donation will allow us to care for one child, ensuring they have adequate nutrition, food, clothes, school supplies, and to be part of our network of children who attend the biannual events. During our last meeting in Barranquilla in July, all the parents of the children were given cell phones so that we could all stay in touch. If desired, Factor-H can connect you directly with your sponsored child, and we can also facilitate meeting them at one of our events.
So please support our cause, and get involved. These children will change your life, and we can change theirs!
Thanks you
nacho
Gathering of the kids in Barranquilla in July 2018 - first time they met with clinicians and scientists!
The children of Project Abrazos from the states of Atlántico and Magdalena got together for our fifth gathering, this time within the framework of the first Latin American scientific, medical and social conference. The 40 kids met for the first time some of their sponsors as well as other clinicians and scientists working to improve the care of HD patients. They joined us on the last day of the conference, stayed with the rest of us in the Hilton Garden Inn, and spent 3 days doing activities together. The children also interacted with the youth at-risk family members coming together for the first time for the HDYO gathering. This was the first time Factor-H integrated the kids project with our colleagues working together in the areas of community development and medical care. It was an unforgettable few days. During the visit, they also received a lot of gifts from their sponsors, and their friends coming from Italy and Switzerland!
Many of them were also seen by expert physicians during our medical assistance day that took place in Juan de Acosta, the largest community afflicted with HD in Colombia. The program is progressing nicely, and together we have made a pledge to extend our financial assistance to enable them to get a better education and to improve the quality of life of their families through community development programs. Activities included a visit to the historic colonial city of Cartagena de Indias, the first time they visited this beautiful city. the kids spent the day with our friends visiting from Europe, North America and all over Latin America.
Third year of project abrazos is underway in colombia & venezuela
The third year summer gathering of the Colombian kids sponsored by Factor-H (37 in total in Colombia alone) are getting together in Barranquilla on July 8-11th. Along with the usual recreational activities, we are also uniting them with visiting clinicians, scientists and young HD family members from 7 different Latin American countries, in the largest gathering of Latin American patient associations ever. You can read more information about this meeting on our "Events" section.
This year, Project Abrazos has increased its area of influence in two significant ways.
In Colombia, Factor-H now supports a full-time staff member whose main responsibility is to care for our sponsored kids. Carlos Arnel works in close collaboration with Funcovulc, the local HD association based in El Dificil, Magdalena State. He regularly visits the children, ensures they have adequate access to food and water, and that they go to school. We are in the process of ensuring continued education as their local school is inadequate and some of the young children still do not know how to read.
We are also providing cell phones for the parents to ensure continued communication, so that we can best help as their needs evolve.
In several instances, we have had to relocate children due to mistreatment at home and we are providing extra support for those kids by covering their living expenses.
In addition, we have expanded the program to Maracaibo, where we now sponsor 10 children at risk for HD. Given the large numbers of at risk children in the Venezuelan communities, we are working closely with our local partners there, coordinated via the Fundacion Habitat LUZ (associated with the University of Zulia), so that we can begin educational and recreational activities for kids at the community level. Plans are being drawn to start arts classes, sports activities, and teaching workshops so that we can reach more children. Several extrenely poor kids have been included in the program and we have covered their education costs at the local school in San Luis.
Together we can continue to make a difference. Donations will be sought soon after our meeting this July. Please contact us if you want to learn more or get involved. We need your help ... they need your help!
Fourth gathering of project abrazos in maracaibo and barranquilla
December 2017 will be remembered very fondly for our efforts. For the first time, we included children at risk for Huntington's and living in extreme poverty in Maracaibo. A few kids from Barranquitas and San Luis (the two largest HD clusters in the world) in Maracaibo are now part of the regular Project Abrazos program. In addition, we held two large Christmas parties organized with the local patient associations: Fundacion Amigos Huntington in San Luis, and Fundacion Huntington's Zulia in Barranquitas. We provided gifts, food, and entertainment to over 300 children, all at risk for HD.
We wanted to bring them a message of hope and celebration. we wanted the kids to be kids and to forget, albeit momentarily, the difficulties they face daily. They played, they danced, they laughed, and they were happy!
We also organized additional events during my visit to Maracaibo, which you can see in the pictures. A local group of young physicians is getting involved in Maracaibo and they conducted their first visit to San Luis. Access to medicines is very restricted in Venezuela at the moment but we are getting organized to help them.
In Maracaibo we also held meetings with a local NGO called Fundacion Habitat Luz, and architecture and engineering organization who has now teamed up with Factor-H to help in community development projects in Maracaibo.
In Colombia, the local university provided assistance for all the sponsored children. Several needed glasses, all needed dental and medical supervision. Overall, all of the kids in the program are doing much better, and none of them now is malnourished. As you will see from the pictures, they are well integrated with the other kids (this was not so last time we got together) and friendships are flourishing. I feel very proud of what we are accomplishing, and we are making plans to improve our impact in these kids' lives - we are working with the schools to improve care, and considering steps to ensure the teenage kids remain in school and also get additional education so that they can succeed in life.
The program would not be a success were it not for the kind generous donors, and the local associations, who do a wonderful job organizing these important events and gatherings.
One child at a time, one patient at a time, we will change their history, and we will a better world for it.
Merry Christmas!
nacho
Second year of Project Abrazos is here!!
We are about to take the sponsored kids to the beach in Northern Colombia from June 27th through July 2, 2017.
We have done a lot of work this year with 40 children at risk for HD in Colombia, living in poverty conditions. We are now trying to expand the program to include other children from Maracaibo, where the largest populations affected by HD reside. For this, we need additional support.
We have also slightly changed the Project - for kids under 12, things remain the same. For kids over 13, we are starting a Phase 2 program aimed at education and professional training. We acknowledge that one of the best way to help these families get out of poverty and for these children to experience long-lasting benefit, we need to provide them with opportunities for them to be independent and be able to earn a living. So we will be working with local institutions and provide adolescent kids with tailored programs based on their interests and where they live.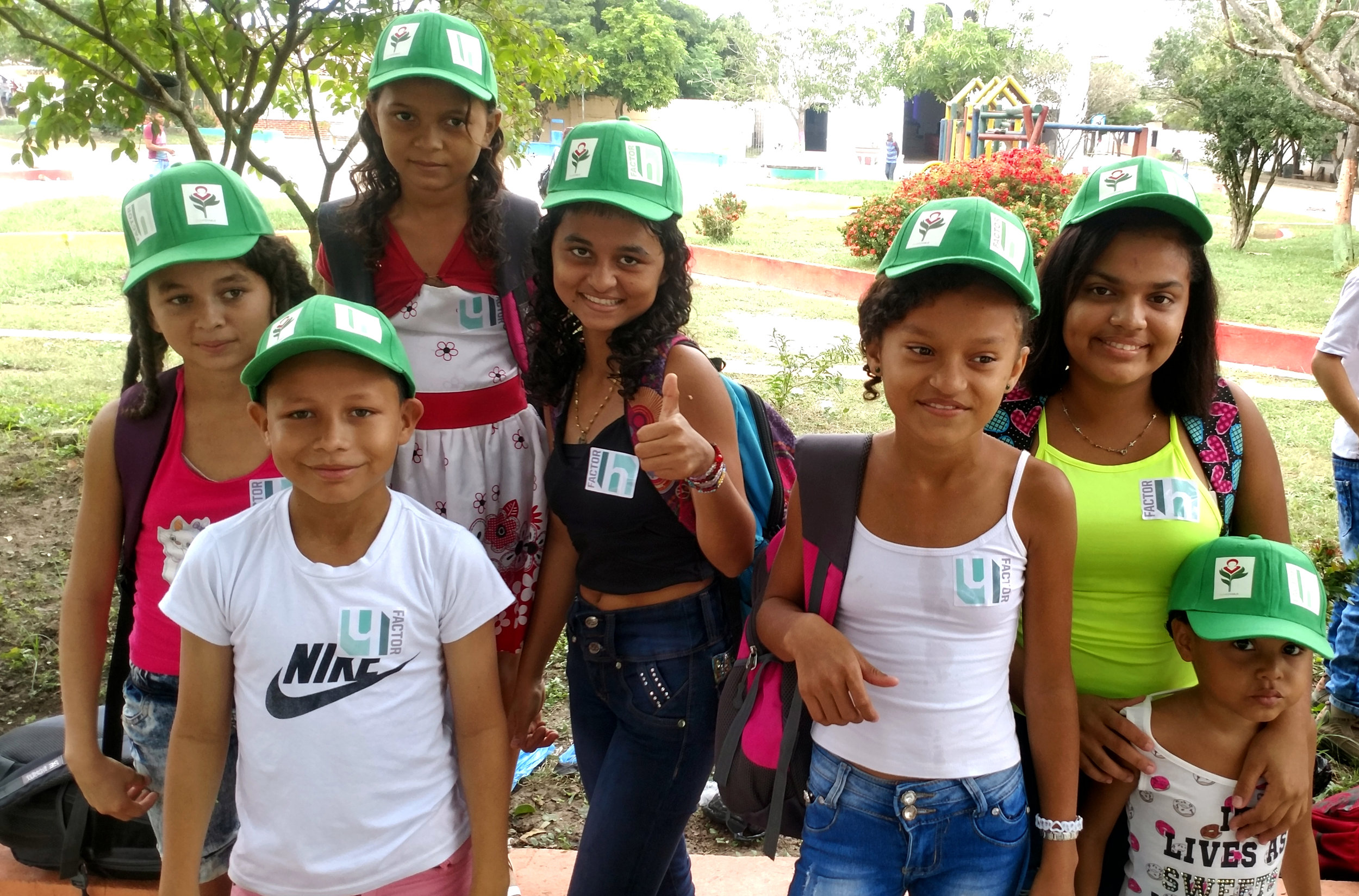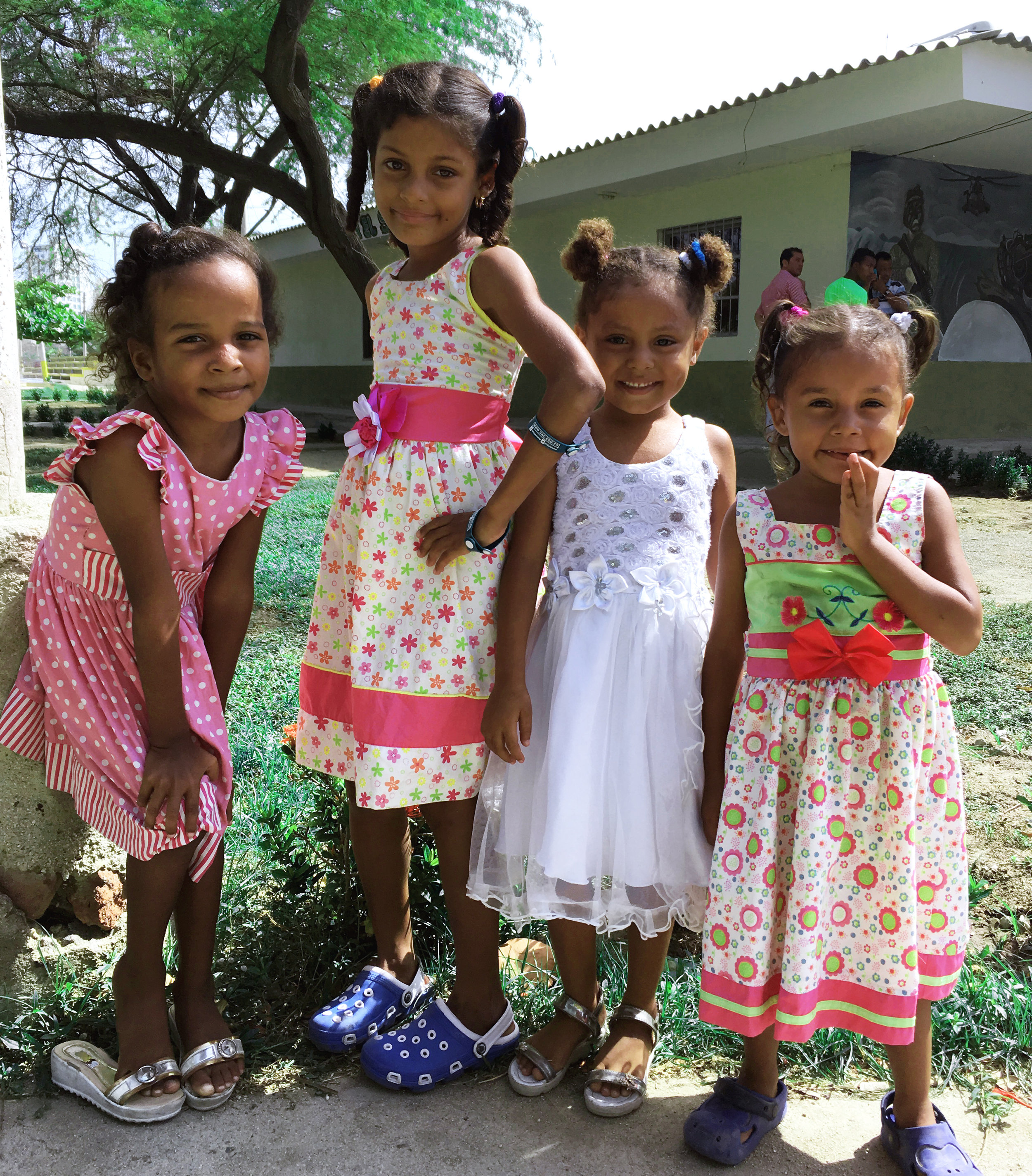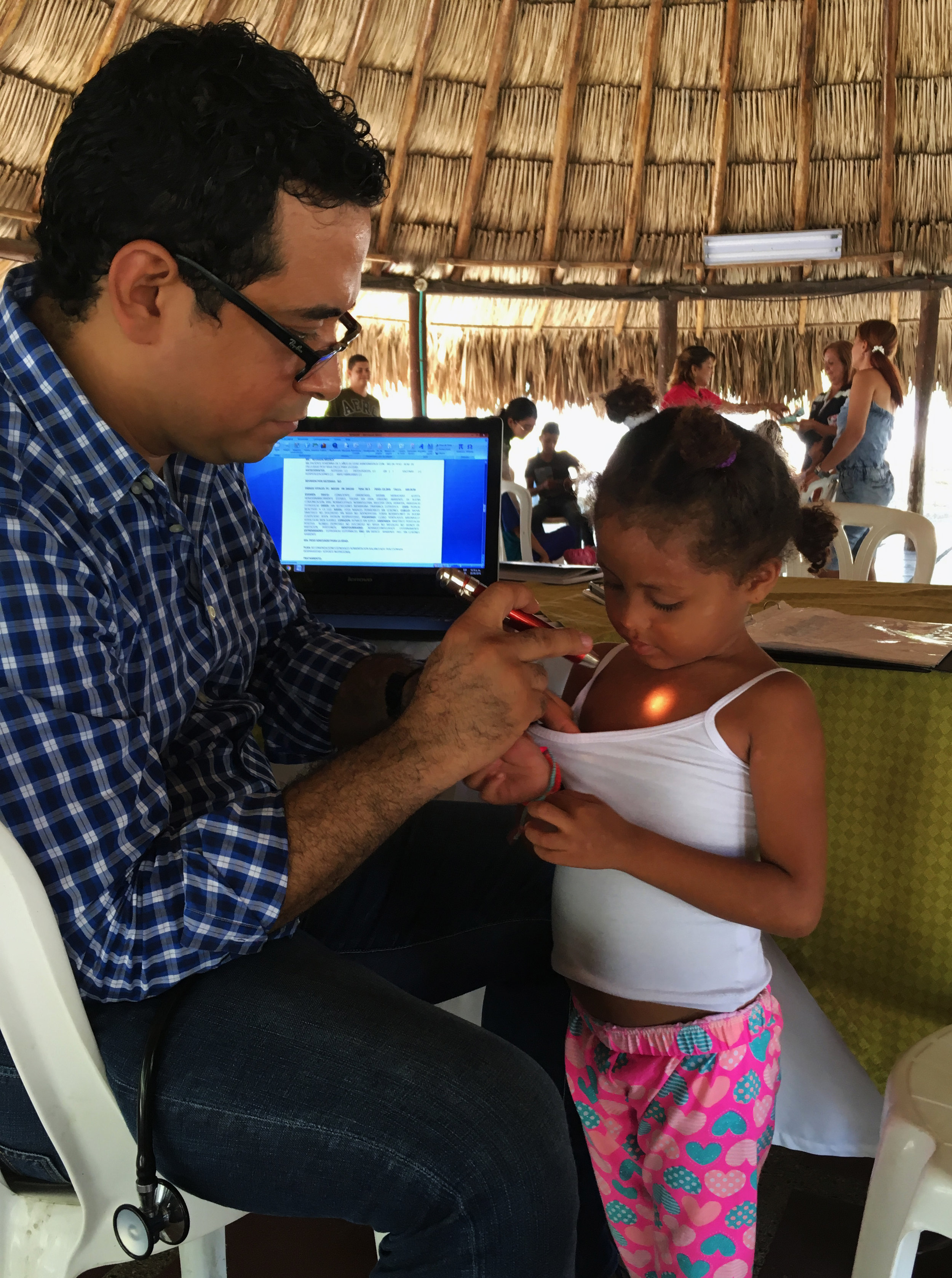 The project 'Abrazos' (Hugs) aims to provide donations for children in Colombia living in families affected by HD. Their family situation is dire and many of the kids have been abandoned by one of their parents. Often times, the mothers are early-stage HD and have difficulties caring for the children.
Their families typically do not have any money to buy them clothes or toys, and all of the children lack proper nutrition. Their living conditions are difficult, usually lacking access to fresh water, electricity and living in inadequate housing that floods during the rainy season. The children we seek to help live in the Magdalena and Atlantico provinces of Northeast Colombia.

Factor-H works with two local Colombian HD non-profit associations who know these families well and will ensure the donation reaches the children (all under 16 years of age) who we have jointly selected for this project.

This donation will bring them hope, a chance in life, and will go towards paying for school supplies, clothes, and making some of their dreams come true. We will deliver donations twice a year and also give them a birthday and Christmas gift. With additional donations we also organize medical, dental and educational visits regularly. We want to ensure the reality they experience growing up is different from that of their affected parents and relatives. The new generation of HD kids will grow up strong and united!
We are now in our second year and we will be soliciting donations soon. Please click the 'learn more' button below to access the donation page through Go Fund Me. And thank you for your interest in helping!